I wasn't kidding when I said I have a well stocked pantry. This is by far the biggest reason why our grocery budget is so low. We have a year's supply of canned goods, wheat, beans, dry milk, oatmeal, and the ever important chocolate chips. It took several years to accumulate all the goods and then several more to fine tune a system for rotating and keeping track of all the food so that nothing goes to waste. If you're interested in how we did it read on. If not, see you at the next post. 😀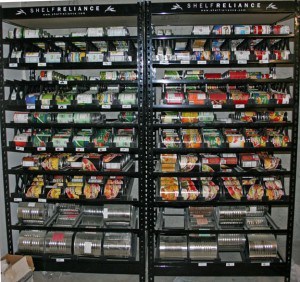 Why a year's supply of food? We are members of The Church of Jesus Christ of Latter-day Saints and have been counseled to have a year's supply of food on hand for emergencies like loss of employment, natural disasters, etc. Recently, though, the year supply counsel has been cut down to three months. You can read more about it on the church's Family Home Storage site.
I decided if we were going to store a year's supply of food I wanted it to be food we normally eat. Since we usually eat the same dishes from month to month I kept track of everything we ate. Every can of cream soup, every bag of flour, every cup of oatmeal was marked down. At the end of the month I had a good list of a wide variety of foods. I multiplied the numbers by twelve to get my yearly total for the food we would need. That part was easy enough. Then came crunch time figuring out the cost of buying it all and storing it. When we started this journey we were living in an 800 square foot home with four little kiddos. It was interesting to figure out where to store the cans.
We agreed to reallocate our saving for several months into a 'food storage' account. This was just on paper, we didn't actually open a new bank account or anything. Our first purchase was from our local
Home Storage Center
where we canned rice, oatmeal, dry milk, beans, hot cocoa mix, pudding mix, dried apple slices, etc. That's all we did the first year. Throughout the year I would buy extra cans of food as our grocery budget allowed slowly building up our canned goods supply. The next several years we did about the same thing only we found we only needed to allocate savings for two months and then eventually for one month for our food storage. A couple of years
ago we took a trip to Winco and purchased all the rest of our canned goods in one fatal swoop. Now we only have to maintain our supply and make sure it gets rotated so food doesn't go bad.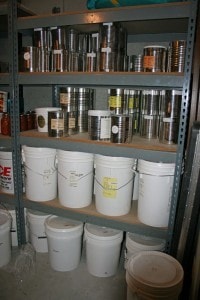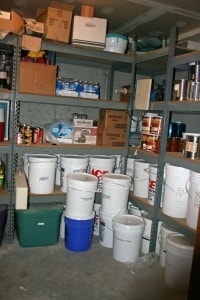 Our family eats so much we've graduated from using #10 cans to using 5 and 6 gallon buckets for storing our food. I have rectangular Tupperware containers that I fill and use in the kitchen. Did you know that one #10 can fills a #2 size Tupperware container perfectly? Don't you love our dirty garage floor?
In my Planning a Menu post Ice Cream asked if we had a separate budget for restocking our food storage/pantry items or if they were included in our grocery budget. The answer is yes and no. How's that for being diplomatic? Any extra from our weekly grocery budget gets rolled over to the next week's budget. Then when canned goods go on sale I usually have enough to restock what we've used.
About once a year I go through and recalculate what our needs are as our family grows in size and the kids get older and eat more. If I find we are lacking then I will take some of that month's savings (usually about $200) and buy what we need from Winco. Add that to our grocery budget and we average $104 per week on groceries.
A word about the rolling can shelves: We got those earlier this year and they are GREAT!!! I can't believe how much time I wasted rotating canned goods before – moving older cans forward, putting new cans in the back, knocking down the cans I had just moved forward, trying to get them all to play nice and stack right. These shelves are definitely worth the investment, especially when you have as much food as we do. Each shelf holds over 300 cans of food. You can also buy racks that fit on your existing kitchen cabinet shelves. I've found the rotating racks hold one less can than what would fit if you stacked the cans in the same space. We bought ours from ShelfReliance.
And if you're interested, our yearly supply of chocolate chips equals 100 lbs. It fits into three 5 gallon buckets. 😀