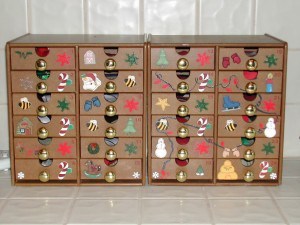 This advent calendar was made by my dad several years ago. He used wooden office supply drawers typically used for the top of desks, attached knobs to the fronts of each drawer and then numbered and decorated them to match our tastes. If you look closely you can see our brand. The first year Grandma and Grandpa filled each drawer with either candy or some other item like silly straws, hot cocoa mixes, and pieces to a small Nativity set. Each drawer also contained a passage of scripture that had to do with the Christmas story.Every year my folks send out a few things for the advent calendar, usually a new Nativity set, and then Mr. Ferrero Rocher and I fill the rest of the drawers with goodies or activity suggestions. This has become a wonderful tradition counting down the days to Christmas that involves family from far away.
*************************************************
Visit the
Winter Bazaar
hosted by Scribbit for more holiday ideas.