We all have certain traditional food that is served every year around Thanksgiving. Here is one of ours. These Pumpkin Pie Squares take pumpkin pie to a whole new delicious level.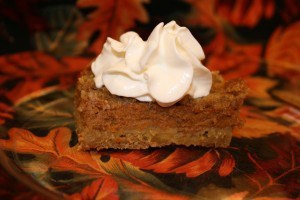 Doesn't that look yummy? Bon Bon made these for a dinner that the youth served to the elderly at church last night. She also made two apple pies. Her Young Women leaders asked her to bake the desserts which she gladly did. We found out after the dinner that she was the only one they trusted enough to cook food that would be served. The other young women were just asked to bring green salads "because it's hard to mess those up." I guess Bon Bon's reputation as a good cook is getting around. ;D
Pumpkin Pie Squares
1 cup flour
1/2 cup rolled oatmeal
1/2 cup brown sugar, firmly packed
1/2 cup butter
Mix the above ingredients until crumbly. Press into the bottom of an ungreased 9×13 pan. Bake in 350 oven for 15 minutes.
2 cups pumpkin
1 large can evaporated milk
2 eggs
3/4 cups sugar
1/2 tsp. salt
1 tsp. ground cinnamon
1/4 tsp. ground cloves
Mix the above ingredients thoroughly. Pour onto crust. Bake at 350 for 20 minutes.
1/2 cup chopped pecans
1/2 cup brown sugar, firmly packed
2 TBSP. butter
Combine the above ingredients, sprinkle over pumpkin filling. Return to oven and bake for and additional 15 to 20 minutes or until filling is set. Cool in pan on a cooling rack. Cut into squares and serve with whipped cream.
***********************************************
Visit the
Winter Bazaar
hosted by Scribbit to find other fall related activities.