Here's a simple snack mix that can be put into cellophane gift bags and given as gifts to family and friends. I usually give them to people I visit throughout the month of November.
Thanksgiving Blessing Mix Recipe:
2 cups Bugles brand corn snacks
2 cups small pretzels (not the stick kind)
1 cup candy corn
1 cup dried fruit bits or raisins
1 cup peanuts or sunflower seeds
1 cup M&Ms
1 cup Hershey's Kissables candy
Gently mix all ingredients together. Place about 1 cup mix into small cellophane bags. Close bag with twist tie. Attach gift tag with raffia.
Here are two pages of gift tags you can print off. I made two different ones you can choose from depending on how much ink you want to use.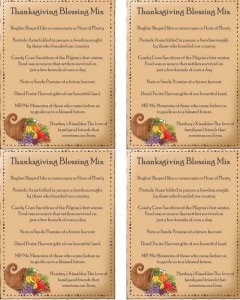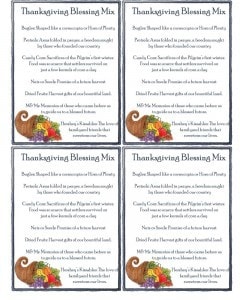 *************************************************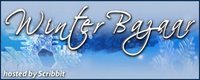 Visit Scribbit's
Winter Bazaar
to find other fun fall ideas.