Last night after the girls were supposed to be in bed Cookie came to tell me that Fudge had said a bad word. My five year old meekly came into the kitchen to meet her doom – a dab of vinegar on her tongue. Before I doled out her punishment however I decided to make sure she understood what she said and why it was bad. I asked her to tell me the exact words she uttered. She didn't want too, so she whispered through the side of her mouth, "Isaidahossessss."
"What? I can't hear you. Will you please speak a little louder?"
Fudge rolled her eyes and again through the corner of her mouth whispered a little louder, "I said a hosssesssss…" The last part of her sentence became inaudible.
Now Fudge was being extremely cute talking through the side of her mouth. It took all my self control and then some to keep from laughing. But I really did need to know what she said. "Fudge, if you don't tell me what you said so I can hear you I'll just give you a huge spoonful of vinegar instead of a dab. Now tell me!"
So Fudge did as I asked and yelled, "I said you big horse's @ss!"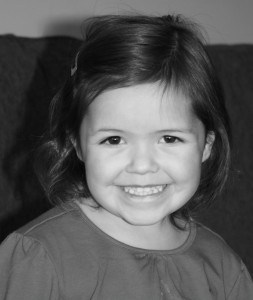 "What?!! *snort, snort* Where did you hear that? *snort*Did you hear dad say that?" I almost let her see me laugh. See in our house if any swear words are said it's Mr. Ferrero Rocher that says them. Fudge didn't respond. She just stood there with tears rolling down her cheeks. We marched down the hallway to confront daddy.
"Fudge said a bad word. She must have heard it from you."
Of course Mr. Ferrero Rocher denied saying any such thing but instead placed the blame on his unmarried 25 year old brother who comes to eat at our house on a rather frequent basis. And also uses some rather rough language at times.
Come to find out we were both wrong. She only watched Home Alone about ten times this week. Kevin!