Is there anything more comforting than a steaming bowl of delicious chicken noodle soup? Well, okay, other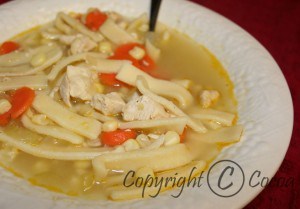 than a mug of hot cocoa?
Homemade Chicken Noodle Soup
3 Chicken breasts, cubed, or 3 cups cooked chicken
1 onion, diced
3 carrots, sliced
3 celery stalks, sliced
2 cloves garlic, minced
1 can corn or 2 cups fresh or frozen corn
12 cups chicken broth
1 recipe homemade noodles
1 tsp. pepper (or more according to taste)
In a big 8 quart pot cook chicken in 2 tbsp. olive oil. Add onions and celery and cook until tender. Add carrots and garlic. Stir and cook for one minute. Add corn and chicken broth. Bring to a boil. Simmer for 10 minutes or until carrots are almost tender. (I usually make the noodles while the carrots are cooking). Add the noodles and pepper and cook another 5-7 minutes. Yummo!
I personally love to fill my bowl with fresh spinach and then spoon the hot soup over it. But I'm weird that way.
Edited: Sometimes the chicken broth doesn't add enough flavor so I add a teaspoon or two of chicken bouillon. As is the case with any recipe adjust the seasonings to your own taste.