When I wrote my Family Read-Alouds post I received several questions about our book list and how we got our family (my husband in particular) to participate. As with anything new there is usually some trepidation at first but over time persistence pays off. I can't take credit for my husband liking the read-alouds though. His mother is responsible for that. She read aloud to her children (all ten of them!) as he was growing up. In fact, it was his idea to start it with our own family.
Our personal library has grown over the years through recommendations from trusted friends and scouring book lists of companies or sites I like. Usually the older the book, think pre-1960, the better. They are cleaner, more old-fashioned, and more appealing to a wider age range. We tend to try new books from authors we already like.
Here's a list of some of our favorite authors: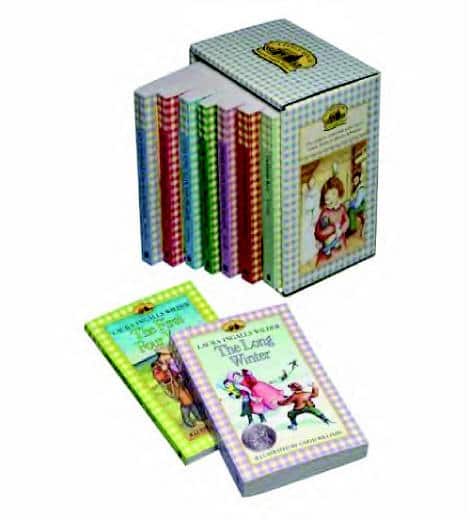 Ralph Moody
Laura Ingalls Wilder
Marguerite Henry
Wilson Rawls
L.M. Montgomery
Eleanor Estes
Eleanor H. Porter
Gertrude Warner
Elizabeth Enright
Lois Lenski
Many of these authors have written a series – Little Britches, Anne of Green Gables, Boxcar Children – which are fun to read in order through a whole winter or summer.
I scour book lists from the following sites or companies.
Sonlight is a homeschool curriculum that centers around history and literature. Each level has a list of read-alouds for the family as well as individual readers books for the student. To find the lists click on a level then click on the read aloud or readers link at the top of the page. You can also request a catalog which I highly recommend doing. I personally like thumbing through catalogs than browsing web pages.
Ambleside Online is a free curriculum designed to correspond with more Charlotte Mason approach to homeschooling. Clicking on each year's books link will take you to a list of readers that are appropriate for that grade level. I find Ambleside's year level runs more advanced than the corresponding grade, which I like.
Beautiful Feet is a literature based curriculum. They have wonderful book lists. I have never been disappointed with their choices. Request a catalog today!
There some other sites I'll list later. I think the sites above will be a great place to start if you are looking for good family read alouds or even a list of excellent, not trashy, books for your children to read on their own.
Most of the books I purchase I get from the thrift store, used book stores, or paperbackswap. We've been able to get almost all of the Ralph Moody books through paperbackswap though it has taken over two years. If you know what books or authors to look for you will usually come home with a treasure. I do buy books new sometimes when cheaper options are exhausted and I just can't wait any longer. But after one reading it's used right?
Happy hunting, happy reading!