My girls pulled out a box last week that had many of my old yearbooks, photos, letters, etc. Reminiscing about what I was like way back when has made me realize I haven't changed all that much. Some interests have changed but deep down I'm pretty much the same. So here's a little journey into my past complete with the ever embarrassing, scanned so they are poor quality, photos.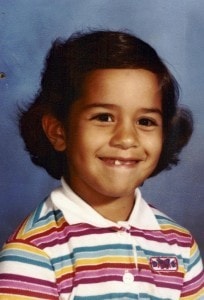 1. I loved school. I particularly remember second grade very well. My teacher, Mrs. Rinaldi, was
kind, thoughtful and loved to read books to us. I made her cry one day. Not on purpose. I thought I would get in trouble but I didn't. What did I do? I sang "I'm Trying to be Like Jesus" for show and tell.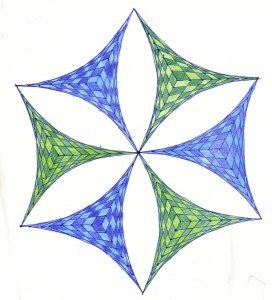 2. In seventh grade I really became interested in drawing and art. I particularly liked creating line designs.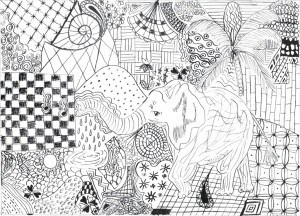 3. And mosaics, or hodge podge collages. This one is the girls favorite.

4. My friends and I created little I.D. tags using our initials for the front. On the back we listed some of our favorite things. Reading through it, not much has changed. I no longer draw, dance or play sports. And my favorite artist is Minerva Teichert. But other than that I'm still the same old me that I was when I was 12. And yes, we were corny listing our favorite type of guys. 😀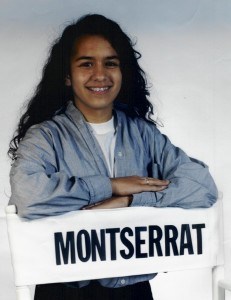 5. I had beautiful long naturally curly hair. I loved it! But unfortunately it went completely straight during my first pregnancy. After 12 years I still don't know what to do with straight hair. This is my favorite school picture of all time. And yes, I left my name on there for all to see.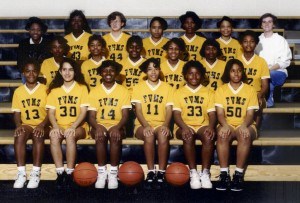 6. My favorite sport is basketball. I love, love, love playing it. Even though I'm only 5'2 and and am easily blocked when I try to do a lay-up. I made up for it with my dribbling. And stealing. I could steal a ball faster than you can say boo. Looking at this picture I'd forgotten there was only one white girl on the team, one half Mexican (that's me, 2nd from the left on the front row), and the rest were black. And yes I say black and not African American because that's what they called themselves down in Georgia in the 1990's. So there.
I can also see why there was some confusion as to my race when we first moved to Georgia. They thought I was mixed (half black/ half white) and called me Oreo for the first six months of seventh grade.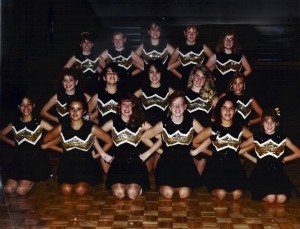 7. I was also on the drill team. So was my sister. I'm on the front row 2nd from the right. (front row again? I think I liked being the center of attention) My sister is the second from the left on the second row. Another interesting observation. Now there's all white girls and only one black girl. Hmm…
I wonder whatever happened to my outfit? I know my girls would love to use that for dress-up!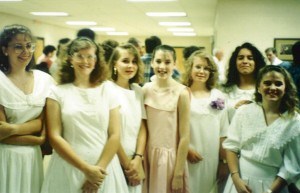 8. I was asked to speak at my eighth grade graduation. My English Lit. teacher, Mrs. Humble, made me practice in front of our homeroom class. She wanted to make sure my elocution met her approval. "Montse, we want to make sure the audience will understand your Yankee accent. Remember to speak slowly."
The girls were all asked to wear white dresses. My friend, Katie, decided white made her look pale. She wore peach instead.
BTW, I've been trying to reconnect with some of these people. It's really hard to track down the girls! They get married, their names change, they move. For kicks, I decided to do a search with my maiden name to see what would come up if any ever wanted to find me (not that they would but they might!). Um, let's just say I'm not that kind of bodybuilder. I'm a different sort that's built seven bodies so far. 😀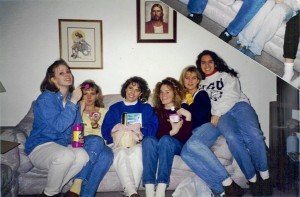 9. Eighth grade was the last of my public schooling. My parents decided to homeschool us instead. Two years later I was entering college. Do you think my mother was worried when she found out 4 of my five roommates were Ricks College Cheerleaders? Sorry for the cut off legs at the top. This was scanned from a scrapbook page.
10. So I enter college at 15 and my parents think, "Hmm, who could we get to keep an eye on her?" They remember a missionary that served in our branch a couple of years earlier, whose mother also happened to homeschool, which is how my parents got information about homeschooling. "He's also going to Ricks College (now BYU-Idaho). Well ask him to keep an eye on her."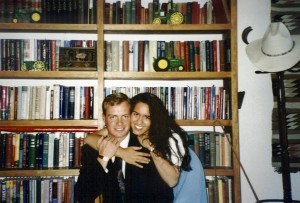 11. And he has been this whole time.