Lucky for us the Green Hour Activity this week just happened to coincide with the homeschool field trip to the Safe Haven Wildlife Rescue Shelter.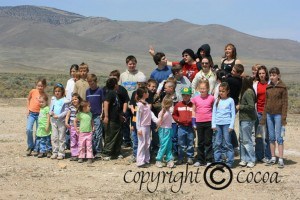 There were about 32 kids in our group with a great range of ages and grades. The folks at the shelter were wonderful and had activities all prepared for the kids to do.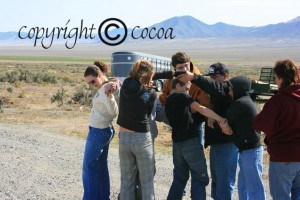 To get the wiggles out of everyone after our long car ride those in 6th grade and higher were split into two groups, tangled up, and then told to work together as a team to untangle themselves. The younger kids played several rounds of "Simon Says."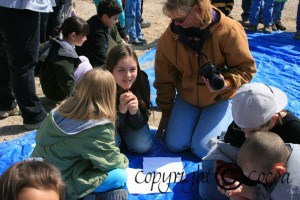 Here the 2nd – 5th graders had the assignment to create a restaurant complete with a menu, decoration ideas, and dinner show for the wild animal they were given. Each pair of kids had to work together first reading all the information they were given on their animal. Semisweet had a fox while Brownie had a cougar. They came up with menu items like worms& cheese (instead of mac & cheese), Ferret Salad with worm gut dressing, Elegant Elk Hooves, Cow Cookies, and Ground Sheep.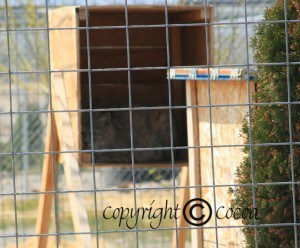 We learned about some of the animals currently at the shelter. This bobcat, Phoenix, was illegally kept as a pet in an apartment!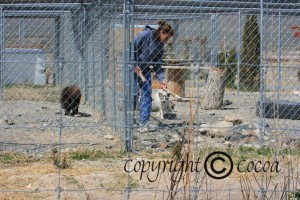 The foxes here came from a roadside zoo that closed down. The caretaker is giving them paper towel tubes that have been sprayed with raccoon urine to play with. Doesn't that sound like fun?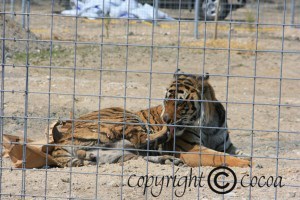 Tigger the tiger came from Nebraska where he had been privately owned along with two female tigers for breeding purposes. His living conditions were terrible – only a 10′ x 12′ cage for 15 years! His new home here is now a spacious 10,000 sq. feet.
After our tour we had our picnic but wouldn't you know I was too busy eating to take any pictures? We definitely want to have another picnic out on our lawn if the wind would ever stop it's incessant blowing.