I don't know what the weather is like where you're at but here in Northern Nevada it's hotter than Hades. We've been breaking new high temperature records. The Boys ( that's what we call my husband and his brothers) decided it was time to once and for all break out the swimming pool. Here's the ingenuity of rednecks – an old oil tank that has never been used for its intended purpose.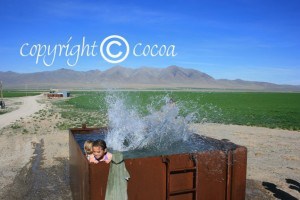 I have a wonderful series of shots featuring Mr. FR as he performs a cannonball but he made me swear I wouldn't post them. So here's the splash instead.
Mr. Weatherman says we will be getting cooler temperatures this week. I think I believe him. Whenever there is a change of weather coming it is usually preceded by fierce winds. We had a severe weather alert today of high winds exceeding 50 mph with gusts reacher higher than that.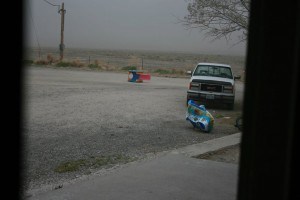 One particularly strong gust blew the kiddie swimming pool and the toddler slide away. Thank goodness for strong fence lines to catch all the flying debris and junk. Definitely not a day to be outside. Semisweet was out laying on the grass before the wind became vicious when a bird flew right overhead and a worm dropped on her stomach. And then a particularly ferocious gust came blowing the swimming pool up the hill and right onto Semisweet. "Funniest Home Video" material for sure.
Speaking of material I decided to spend the afternoon hemming and patching pants. Do you ever put off doing a task because you think it will take forever or you just don't seem to have the time? I had nine pairs of pants to fix. It only took about an hour to do them. Still its times like these I wish I had an industrial sewing machine. Only broke two needles this time though.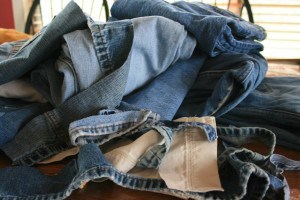 I just love good hand-me-downs. They're worth every penny! 😀