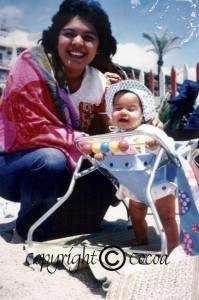 Here's my beautiful mother and I enjoying one of Barcelona's beaches.
Thanks for
giving me life
changing my diapers
singing to me
reading to me
teaching me to read
all the encouragement
letting me splash in puddles
and squish Box Elder bugs in my neck
Thanks for
your patience
the discipline when I needed it
the hugs
the kisses
a cool hand on a fevered forehead
taxi rides to ball games and music lessons
laughing and smiling
talking and lecturing
Thanks for
tolerating teenage hormones
reading your scriptures every morning
praying for my welfare
setting an example of how a mother should be
forgiving my faults
sharing the legacy passed on to you
from other great mothers
loving unconditionally
I love you! HAPPY MOTHER'S DAY!

P.S. Your card is in the mail. A little late. Oops!