I think my children's favorite part of haying season is the swathing. They get to spend hours on end riding with dad in the mower just spending time talking to him. It's also fun to watch the hay get mowed. The smell is is even better than freshly mowed grass. This first clip is of Special Dark. It's also kind of dark because we were in the house with out lights on. SD could see and hear the swathers out in the pivot right next to our house. He was beside himself, he wanted to go out and ride so bad.
We have two John Deere swathers that we use to cut two pivots a day. It usually takes about 3 hours to cut each pivot. Because the pivot creates a circle everything else we do is also done in a circle. First some straight windrows are cut along the pivot itself then all the other rows are cut in concentric circles that follow the pivot tracks, where the tires of the pivots go as it makes its way around the field. When a pivot is all swathed it looks like this aerial shot taken two years ago of one of our pivots.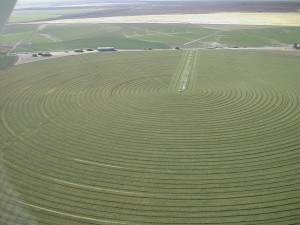 Isn't that a neat picture? Now when you look out of an airplane window and see circles in the land below you'll know they are some farmer's pivots.
The hay usually ends up being about 2 – 3 feet tall when it is cut. It needs to be mowed before its purple flowers bloom for optimum nutrition for the animals it will be fed too.
These last two videos are of the swathers. If you listen close in the last one you can hear Special Dark make excited giggles as the swather comes closer to us. He is all boy! He just loves machines!