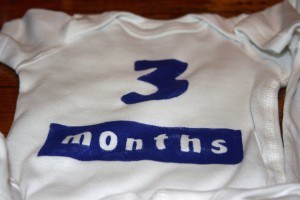 I love figuring out new gifts to make for friends and family. Ones that are really awesome, somewhat different than the norm, and so fun to do that I know they will be a go-to gift for quite a while, or until I run out of people to give them to.
My friend Julie had a baby girl on July 21. I wanted to present her with a gift that was unique and would set little Olivia apart from her seven older siblings. You know sometimes those younger ones can get lost in the shuffle. When Julie kept a blog she mentioned she loved this idea posted over at ohdeedoh of taking a monthly photo of baby's first year with the baby on a Stendig calendar page. I thought about that a while and then I saw this idea on culpeppergeneral's etsy store. I got all excited because this is something I can do!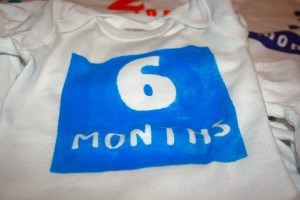 I ordered RabbitSkin onesies from Dharma Trading Company and when they arrived I set right to work. To create freezer paper stencils I printed off large numbers in a font I liked along with the words month and months. I laid these over freezer paper and cut them out using a craft knife. Make sure your freezer paper is laying on the shiny side as that's the side that will iron to your fabric. I created three different designs to use on the onesies for a little variety, used six different colors because babies deserve bright colors, but kept the font exactly the same for continuity. Freezer paper can be ironed over and over again so I only needed to cut out the word months three times. I stuck a sheet of wax paper into each onesie to keep the paint from seeping through to the back. The paint I used are Jacquard Textile Paints. They dry to a soft touch, not scratchy and rough like the regular Tulip fabric paint from Voldemort Walmart.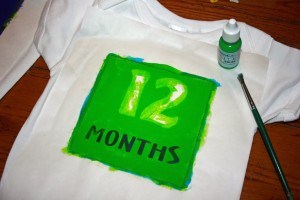 When the paint dried I peeled off the freezer paper. On this onesie the "months" didn't want to iron anymore so I used stickers instead. I love peeling off the freezer paper to reveal what the design looks like.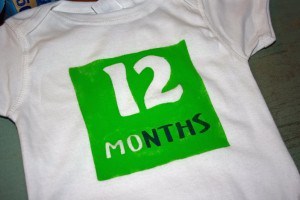 And here you can see the three different designs I used for the 1 month, 5 months, and 9 months.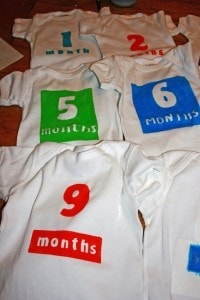 I need to order more onesies now and keep several sets of these stockpiled for future gifts.