Meet Mr. Ferrero Rocher's family. His wonderful parents are in the middle of the photo surrounded by nine of their ten children, five children in law, and 29 of their 34 grandchildren.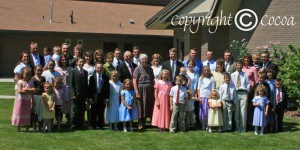 Everyone migrated up here for a huge day of family fun. We started the day off with cousin J's baptism. She turned eight on July 4. We then gathered at my SIL's house for sub sandwiches. After about an hour's rest the older kids went swimming in our redneck pool while the younger kids came to our house to do the slip and slide down our hill. I forgot to take pictures, probably because I was having too much fun going down the slide myself!
In the evening we gathered at my other SIL's house for a BBQ, fireworks, and this impromptu redneck amusement ride – swinging from the crane.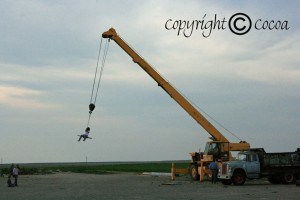 Here's Bon Bon screaming her head off.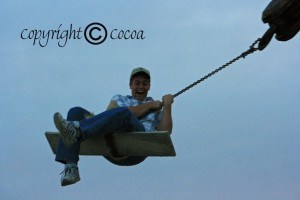 Even 17 year old cousin J couldn't help letting a little yelp out.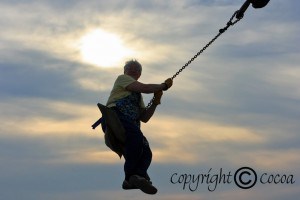 And the ever fun loving Grandma even had to give it a go.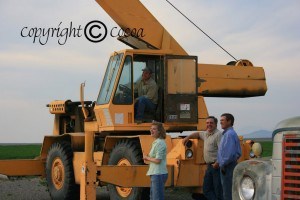 Mr. Ferrero Rocher was at the controls. You can see his two older brothers and a younger sister enjoying the show.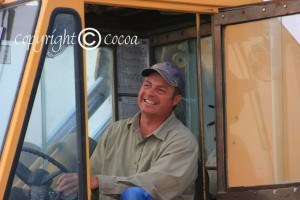 I think he quite enjoyed the squeals let out by those swinging.
After eating some dang good food we brought out the sparklers and fireworks.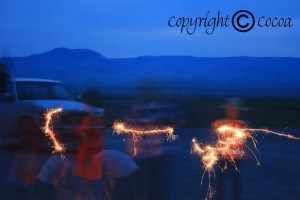 I love this ghost shot of the cousins twirling their sparklers around. I had fun trying different shutter speeds on my camera.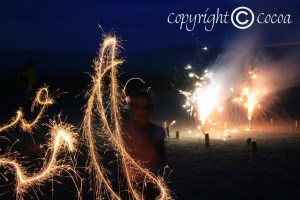 Here's Truffle making designs with her sparkler.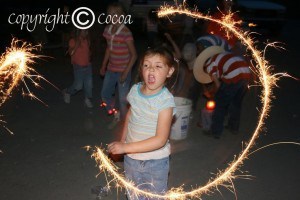 And Fudge starting to spell her name.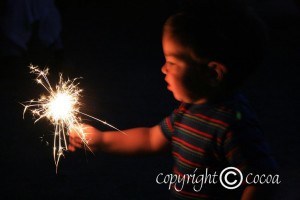 Special Dark was fascinated by all the tiny sparks and just loved the boom of the fireworks and bottle rockets.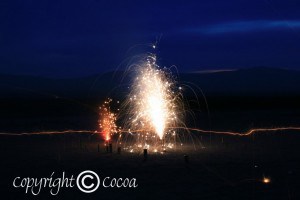 This is one of my favorite firework photos. The shutter stayed opened for about 20 seconds and caught not only the fireworks but also a bottle rocket racing by.
My parents were also here visiting for the weekend. It was so nice to be spoiled again. Everyone was here for some big happenings on Sunday. More on that major announcement tomorrow.