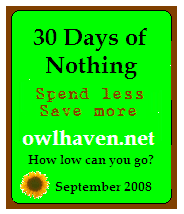 So what would happen at your house if you decided to only buy the very essentials for 30 days? Could you make it without giving in to that urge to buy a Wendy's shake or a the cute new skirt? How much would you save?
Mary over at OwlHaven is spearheading a little project called 30 Days of Nothing. For the month of September her family is going to cut back on their spending – give up all non-essential goodies – to see how much they can live without. As Mary said, "We are fortunate to have so many choices. But just because we CAN buy almost anything our heart desires, doesn't mean we SHOULD." She's inviting whoever wants to to participate.
This is a very personal project with everyone creating their own rules to try and follow for the month. I think it would be a great opportunity to teach my children the difference between needs and wants. Next week we'll sit down as a family and decide what our goals will be for the month. It should be interesting to hear my children's perspectives. What will they be willing to give up? What will I?
I'll let you know.