I get a kick out of seeing how people end up here at the blog. Statcounter has been great at helping me keep track of the comings and goings of visitors. You didn't know you were being watched did you? Oh, yes, I've got my eye on you!
One trend I've noticed over the past several months is the flannel board story page is pretty much in constant use all Saturday and into Sunday. I think it must be all those procrastinating Mormons trying to hurry and get their Primary lessons done before church starts.
Another surprisingly busy page is the Passage to Zarahemla review. Not because of the movie but apparently because Chris Heimerdinger himself let a comment revealing the title of the next book in his Tennis Shoes Among the Nephites series. All these hits (at least 30 a week) kept coming from Chris's bio page at Wikipedia. It took me a whole hour reading and rereading that thing to find out where the link to my blog was. In case your interested it's all the way down in the notes #8″Heimerdinger left this title in the comments on this blog". Must be a bunch of kids out there like Bon Bon who are interested in it.
Unfortunately, or fortunately, depending on how you look at it there aren't any funny search terms that brought people here. Just the typical "mocktail drink" leading them to my Bomb Pop Layered drink, or reversible handbag, homemade chapstick, and ribbon headbands. What is surprising are the "Chocolate on my Cranium" searches, 13 today. Wow! Some people get pretty specific when they know what they want.
And for my new-to-blogging friends and nieces out there who are wondering what in the heck stats are. You can get a free account with Stat Counter, follow their directions to apply the code to your blog, and they'll start tracking all the visitors who come to visit. They track where they came from – what other links led people to your blog, where they live, how long they stayed to view the blog, which pages are the most popular, and even produce a handy dandy map showing at a glance where the visitors live throughout the world. Like this one from Sunday evening: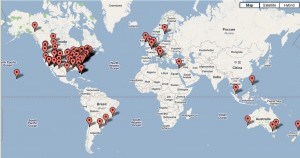 You can click on a pinpoint and it will tell you exactly what page the person looked at and where they are from.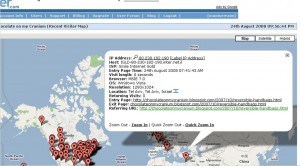 This person from Tel Aviv, Israel went to the Reversible Handbag page.
Pretty cool, right?