This is a really fun family home evening lesson for the whole family, old and young. The original lesson can be found at LDSSplash. I added to it just a little.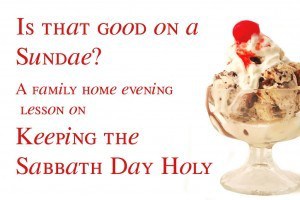 Download the file here: Keeping the Sabbath Day Holy PDF

Here's the lesson plan:
Keeping the Sabbath Day Holy
Opening Song: I am a Child of God (Children's Songbook, pg 2)
Needed:
Sundae sign and word strips with inappropriate Sunday activities
Ice Cream
Toppings for a sundae
Other toppings (ketchup, steak sauce , Mustard, Salad dressing, Salt, etc)
Preparation: Tape a word strip to the back of each non-sundae topping. Prep a table with the non-sundae toppings (ketchup, steak sauce, salad dressing, bacon bits etc). Make sure they are covered with a cloth so no one can see them.
Lesson:
Ask who likes ketchup, ranch dressing, steak sauce, etc. Cater this to your family's taste. Ask for a volunteer, someone who said yes to all those things, and give them a Sundae glass with Ice cream in it. Uncover the non-sundae toppings. Ask them what they would like on it. Question them by picking out a topping they've already said they like e.g : "Would you like ketchup on that? I know you like it!" They will reply something like "not on ice-cream". Clarify by saying "Oh, so it's good but not on a Sundae?" They should then confirm this. Do this with the other toppings reaffirming that they are good but not on a Sundae. Thank them for participating and say that although there are many things that might be good for us to do they aren't appropriate on Sunday, the Sabbath. Turn the toppings around and discuss each word strip – why it is not a good Sabbath day activity.
Read Mosiah 13:16. Talk about why it is important to keep the Sabbath day holy. What blessings do we receive when we do?
Quote to read: "The Sabbath is not a day for indolent lounging about the house or puttering around in the garden, but is a day for consistent attendance at meetings for the worship of the Lord, drinking at the fountain of knowledge and instruction, enjoying the family, and finding uplift in music and song.
The Sabbath is a holy day in which to do worthy and holy things. Abstinence from work and recreation is important, but insufficient. The Sabbath calls for constructive thoughts and acts, and if one merely lounges about doing nothing on the Sabbath, he is breaking it. To observe it, one will be on his knees in prayer, preparing lessons, studying the gospel, meditating, visiting the ill and distressed, writing letters to missionaries, taking a nap, reading wholesome material, and attending all the meetings of that day at which he is expected." Spencer W Kimball, "The Sabbath—A Delight," Ensign, Jan 1978, 1–5.
Make a list of things which would be appropriate for you to enjoy as a family on the Sabbath.
Closing song: Saturday (Children's songbook, pg196)
Refreshments for this lesson are of course real ice cream sundaes complete with the appropriate toppings.
The list of inappropriate Sunday activities comes from Spencer W. Kimball, "The Sabbath—A Delight," Ensign, Jan 1978, 1–5.