Do you pay your kids an allowance or do they get paid for doing extra jobs around the house?
My kids get paid for doing extra jobs that we've agreed on ahead of time and the older girls get paid for babysitting. We don't give them an allowance but they each have a savings account that we've been putting money into monthly. They don't know anything about those accounts. It will be a surprise when they are older. The three older girls get paid in real money because they've shown they are accountable for keeping track of it. My younger kids get paid in poker chips. We live in Nevada after all. 🙂 They've been spray painted gold so it's actually treasure they've earned. I found however that after a while those darn poker chips start piling up so I created a trade-in program – 20 chips for one gold CD (old scratched CD's that have been painted gold).
The littler girls really like to play store using their chips and CD's as money. A while ago they asked if they could have some play paper money too. I could have bought a supply from the dollar store but what's the fun in that? Instead I used the personalized money generator at Festisite to create this: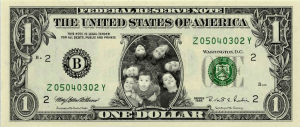 Playing store has never been so fun.