I participated in the recent edition of the Flirty Apron Swap. I'm still working on the apron I need to send to my assigned buddy but the gal who was assigned to me was on the ball and sent my apron already along with some other goodies. Here they are!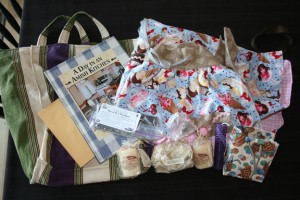 The theme for this swap was "Dream Summer Vacation". When we filled out the questionnaire we had to say what our summer vacation dream would be. I said I'd love to spend my vacation visiting among the Amish. I love their simple, self-sustaining lifestyle. My swap partner decided to make the Gathering Apron, which we love using around here, because it reminded her of the long Amish aprons. We use these for collecting our chickens' eggs and gathering veggies from the garden.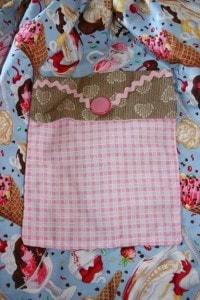 My partner chose material based on my love of chocolate thus combining both themes, chocolate and Amish. She also sent a wonderful Amish cookbook, some homemade soap bits, beeswax candles, a market tote bag, and some locally (to her) made chocolate that is delicious.