I received my swap package about 2 weeks ago but haven't gotten around to posting about it.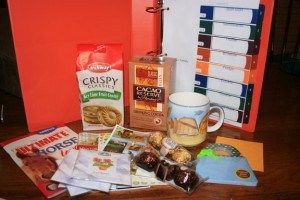 I received all these goodies from Bunny, a homeschooling mom living in sunny Florida. She included a little something for everyone! Stickers for the kids as well as some cross stitching kits and a book for horse lovers. We devoured the key lime cookies. I LOVE key lime pie. It's a taste I acquired living in Miami as a child. The hot cocoa is already gone as well. My favorite part of the whole package has to be the binder. It has two pockets on each side and there are eight customized dividers – one for each child and me! Thanks Bunny!
Look for the next homeschool swap to be announced shortly at Homeschool Blog Awards.