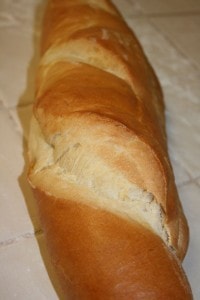 We love bread at our house. All types, all flavors. This french bread recipe is easy and produces three loaves of yummy french bread. I call it Not-So-French French Bread because the recipe doesn't require the usual overnight rising time that true french bread calls for. As a result this bread is less yeasty tasting than the french bread you would buy at the store. The crust however is still crunchy and crisp while the inside is the perfect chewy texture.
Not-So-French French Bread
2 1/2 cups warm water
2 TBSP Yeast
2 TBSP sugar
1 TBSP Salt
2 TBSP oil
6 cups flour
In a large mixing bowl combine water, yeast, and sugar. Let sit for 5 minutes to allow yeast to soften. Add salt, oil and 3 cups flour; beat well. Add remaining flour, stirring well with a heavy spoon (or in the mixer with the dough hook). Allow dough to rest for 10 minutes; stir down with spoon; allow dough to rest for 10 minutes; stir down with spoon again. Repeat this process until dough has been stirred down a total of five times. Turn dough out onto floured surface; knead two or three times to coat entire surface with flour. Divide into three equal portions. Roll each portion into a rough 9×12 inch rectangle. Roll rectangle up starting with a 12 inch side, pinch edge of loaf to seal. Arrange seam side down on a large baking sheet that's been sprinkled with cornmeal. I usually bake two loaves on one sheet and the last loaf on a sheet of its own. Allow to rise for 30 minutes. With a very sharp knife, cut three gashes at an angle in top of each loaf; brush entire surface with egg wash (1 egg beaten slightly with 1 Tablespoon water). Bake at 400 in the center rack of the oven for 20 – 25 minutes or until a nice golden brown. Cool. Makes three loaves.
NOTE: For a crustier loaf, a pan of water may be set on the bottom rack of the oven while bread is baking.