When my oldest girls were little we took the time every single day to do some fancy hairdos in their hair. As time wore on, the girls got older, we accumulated more girls and the hairdos got less and less fancy until, gasp, we were just doing well to get all the tangles brushed out of their hair before lunchtime.
I actually hadn't realized how lax I'd gotten about this until a month ago. I lined up the littler girls, brushed and styled their hair, and went along my merry way. Each one of the six girls asked me within a ten minute period, "When are we leaving for town?" I hate having to answer a question more than twice so by the sixth time this question was asked I answered right back in an exasperated tone of voice, "We are NOT going to town today! Why does everyone keep asking when we are going to town?" Sweet little Truffle answered, "Uh, because you did our hair." Well, duh! I had a good laugh and resolved I needed to do better.
There are still days when we just brush out their hair but more often than not we are doing some fun hairstyles now. Here's two I actually remembered to take pictures of.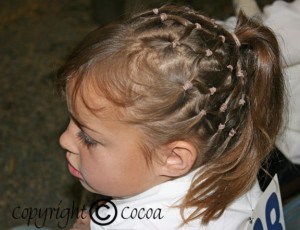 Truffle with her jazzed up ponytail at the 4H poultry show Labor Day weekend. Instructions are from Girly Do's. Semisweet wore this style to her orthodontic observation appointment last week and all the nurses were going gaga over it trying to figure it out so they could attempt to replicate it in their own daughters' hair.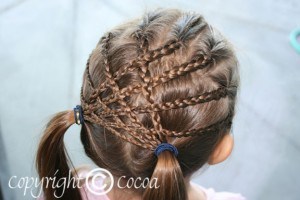 Cookie with her woven pigtails. She loves pigtails and buns. They suit her. Instructions are at The Story of a Princess and her Hair.
More hair style sites I like to peruse:
Hair Today
Curls and Cowlicks
It's a girl thing!
Princess Charmed Hair