After they spoke Shannon and Dean answered questions from the audience.
* Her favorite book right now is an unpublished one that Dean wrote tentatively titled Scape Goat.
* The idea for Princess Academy came from a book that Dean read.
* Shannon is good friends with Stephenie Meyer, author of the Twilight series.
* There is a sequel to Rapunzel's Revenge that is being illustrated right now.
* Shannon also has two other books that she is in the process of writing.
* It took seven years from conception to publication for Austenland to be published.
I would have remembered more if I had been taking notes instead of pictures. 😀
I'm so glad my girls were able to come and meet the Hales. A couple of the girls write little stories of their own filling notebooks upon notebooks. I hope they heard Dean when he said to "write for the love of writing and not for the hopes of getting published."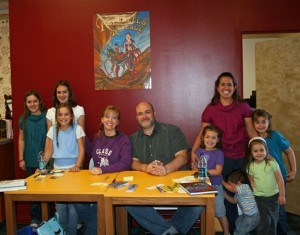 The giveaway gift for one lucky participant of September's Wordfull Wednesdays will receive three books signed by Shannon Hale: Rapunzel's Revenge, Enna Burning, and Princess Academy. The rest of her children's books – The Goose Girl, River Secrets, and Book of a Thousand Days were sold out so you missed having a complete set.