Do all little boys steal your hearts? After six girls it's hard to know whether we are just really biased about him or if he's just a typical sweet/mean/silly/energetic boy. The lighting is terrible in these photos but I love them because of the candid moment they capture. Semisweet grabbed the camera Wednesday evening as Special Dark decided he needed to love on mom a little.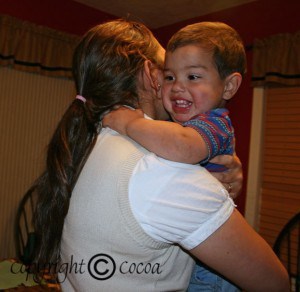 He started off by pointing first to me then himself while saying "You mine." (You are mine) Then he gave me a huge squeeze. Please don't say anything about his little arms not being able to reach around mom's wide shoulders.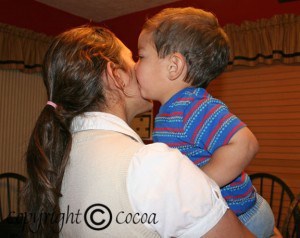 And a big old smack. The best part? He did it over and over again.
Quite a change from Saturday. While listening to Shannon and Dean Hale I looked down just in time to see Special Dark turn around and kick a little girl who was sitting there reading a book. I promptly grabbed him up and took him out where I talked to him about being nice and not kicking. I then asked him, "Why are you being a bad boy?" He shook his head and said "Mean boy!" Well, I guess he really knows what he was doing.
Why did he decide to kick? Just two weeks ago in nursery (the baby class at church) he played the role of knight in shining armor. One little girl, H, was trying to take another littler girl, B, to her mom. B wasn't liking it one bit but H wouldn't let her go. Special Dark saw what was happening got up from playing with his truck and went over and started pulling B away from H. H let her go and ran off. B looked at Special Dark and said "Thank you." He smiled, turned around, and with chest puffed out went back to playing with his truck.