GIVEAWAY IS NOW CLOSED.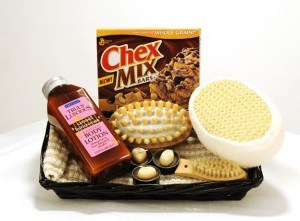 Here's my last giveaway for this week. THREE lucky winners will receive a "Basket of Indulgence" featuring the new Turtle Chex Mix Bars. Chocolate candles, caramel lotion and spa essentials like a loofah, hand massager, nail brush and spa towel round out the prizes in each basket.
The New Chex Mix bars have the classic Chex Mix ingredients like Chex cereal, pretzels, and peanuts that are combined with ingredients like caramel and chocolate to create a bar that is less than 150 calories and provide at least 8 grams of whole grain per serving. These are definitely a great alternative to the granola bars we usually have for snacks around here.
Leave a comment to be entered to win. Giveaway will run until Friday, Oct 31 at 5 pm PST.
Visit the Bloggy Giveaways Carnival for more great contests to enter!