GIVEAWAY IS NOW CLOSED.
I knew it was a good thing when I decided to name this blog "Chocolate on my Cranium." Who doesn't like getting requests to review all types of chocolate? Bring it on I say.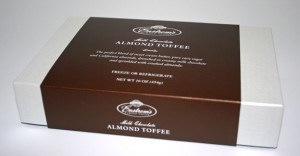 This past Friday we received one pound of Enstrom's Milk Chocolate Almond Toffee. We love toffee around here. Bon Bon usually tries to make some every few weeks or so. Most of the time it ends up burnt, but once in a while it turns out okay. We dug into the box, and I literally mean dug – nine hands were trying to grab the first piece, and each put a piece of toffee into our mouths. After the usual Mmmmms and "This is good" comments the first thing Fudge said was, "Bon Bon, this doesn't taste anything like your toffee. This tastes way betterer!" We all whole-heartedly agreed, even Bon Bon. The buttery, crunchy toffee, toasted almonds, and delicious melt-in-your-mouth chocolate combined to create the perfect taste sensation. Today when I came home from church I opened the box to find only crumbs left. I got out a spoon and sinfully ate the very last bits of toffee, almonds, and chocolate all by myself. I still don't feel a bit guilty. 😀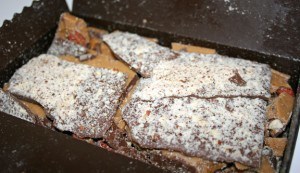 Enstrom's was started over 60 years ago in Grand Junction, Colorado when Chet Enstrom perfected his recipe for toffee. The secret recipe has been passed down from generation to generation and the company has expanded to create other fine chocolates all made with natural ingredients and each are certified Kosher dairy. Enstrom's has numerous gift boxes, tins, and baskets to choose from just perfect for the Holiday season that can be shipped around the world.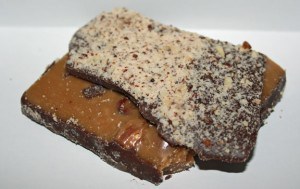 Would you like to win a pound of the Milk Chocolate Almond Toffee for yourself? Just leave a comment telling me what your favorite chocolate candy is and you're entered to win! Please leave an e-mail address so I can contact you if you win. The giveaway will close on Friday, Oct. 31 at 5 pm PST. Giveaway only available for those in the USA.
Visit the Bloggy Giveaways Carnival to find other great giveaway contests.