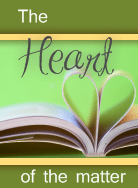 This week at Heart of the Matter we were asked about our favorite free homeschooling sites. There are so many good ones out there. You can pretty much find one for every subject. Here's a list of the ones we use most often.
Online Games:
Starfall – Cookie and Fudge love playing these games at least once a day.

FunBrain – Sonja let us know about this site. Pretty entertaining!
U.S.A Games – Covers, states, capitals, and landscapes of the good old USA. Games levels are beginner to expert. Very fun! Mr. Ferrero Rocher and I even like to have friendly competitions to see who can get the best score in the fastest time for Master Geographer. Try it, it's harder than it seems!
Printables:
Learning Page – My kids love the monthly sets that come out. They also have great unit studies, handwriting pages, number pages, and murals. All for FREE! You do need to register though.
Hands of Child – Every quarter they offer a free lapbook. We love doing lapbooks at our house. The current lapbook being offered is Thomas Alva Edison (expires 12/16/08)
CurrClick – They offer a free product every week! Around Mother's Day every year they also offer around 30 products for free. I've downloaded some wonderful resources this way.
Donna Young – Tons of printables ranging from homeschool planning to handwriting to math to science, etc.
Highland Heritage Forms – Forms and worksheets on every subject!
Unit Studies:
Easy Fun School – A huge directory of free unit studies they have put together
Homeschool Share – Fun ideas and unit studies along with lapbooks all put together by other homeschool moms.
What sites do yu like to use?