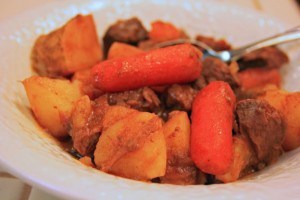 On a cold fall day there's nothing like having a steaming bowl of hearty stew that has slowly cooked all day long. This recipe easily serves eight to ten people so if your family is small invite some friends over!
Skier's Stew
2 1/2 pounds beef cubes, cut into 1 1/2 inch pieces
8 medium potatoes cut into big chunks
8 large carrots cut into large chunks
2 bay leaves
1 package (1 1/2 oz.) dried onion soup mix
1 can (10 oz.) cream of mushroom soup
1 can (10 oz.) cream of celery soup
1 can (8 oz.) tomato sauce
In large crock pot layer half the beef, then half the vegetables; repeat. Mix soups, soup mix, and tomato sauce together. Pour over vegetabels in the crockpot. Top with bay leaves. Bake on low for 8 hours.
This can also be put into a large roasting pan with a lid and baked in the oven at 250 degress for 6-8 hours.
My husband likes his stew very tomato-ey so I substitute cream of tomato soup for the mushroom and celery soups.