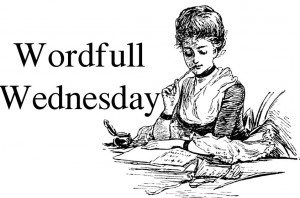 Whew! This week's Wordfull Wednesday was a lot harder to write. There are many issues I have strong views on. The choices I gave for this week's Wordfull Wednesday topics were: Abortion, Economy, Education, Immigration, Marriage (just between one man and one woman or should gays be allowed to marry?) ,War (Iraq, Afghanistan, or war in general). How in the heck was I going to choose just one to write about? I enjoyed the discussion that occurred on my friend Calandria's blog about socialism and equality. I liked reading the posts about California's Proposition 8 on Sea Star's and Michal's blogs and the article Alina posted on her blog. However,when I took a good look at all the issues and which one is most important for me it has to be the issue of abortion.
Simply put, I can't vote for a candidate that supports abortion.
I know abortion isn't the only issue but it is so important for me that it is the first issue I look at. It's why I didn't like Rudy Giuliani when he made his bid for the Republican presidential nomination.
I'm not going to quote any statistics. I know you've all heard or read them before. Instead I just want to share my own feelings about abortion.
I had two miscarriages this year. It is a traumatic experience to go through, knowing that the life you are carrying is gone. If my first miscarriage hadn't happened I'd be holding a newborn baby in just two weeks time. Because of those experiences I can't fathom actually making the choice to terminate a pregnancy. It's inconceivable to me that a woman would want to do that!
Many who are pro-abortion prefer to call themselves pro-choice. That is misleading. A woman does have the right to choose what to do with her body. We all have the right to do what we choose but as soon as that choice intrudes upon another person we no longer have a right to do what we want. That is why there are laws against stealing, rape, murder, etc. Abortion has been legalized but that still does not make it right. The sixteenth century Christian reformer, John Calvin, wrote, "If it seems more horrible to kill a man in his own house than in a field, … it ought surely to be deemed more atrocious to destroy a fœtus in the womb before it has come to light."(John Calvin, Commentaries on the Four Last Books of Moses Arranged in the Form of a Harmony, trans. Charles William Bingham, 22 vols. (1979), 3:42)
Russell M. Nelson, an apostle in the LDS Church, wrote an article this past month about abortion. I'd encourage all of you to read it. The following is an analogy he made that better explains what I mean about a woman's "right to choose."
"Elective abortion has been legalized in many countries on the premise that a woman is free to choose what she does with her own body. To an extent this is true for each of us, male or female. We are free to think. We are free to plan. And we are free to do. But once an action has been taken, we are never free from its consequences.
"To understand this concept more clearly, we can learn from the astronaut. Anytime during selection or preparation, he or she is free to withdraw from the program. But once the spacecraft has lifted off, the astronaut is bound to the consequences of the previous choice to make the journey.
"So it is with people who choose to embark on a journey that leads to parenthood. They have freedom of choice—to begin or not to begin that course. When conception does occur, that choice has already been made.
"Yes, a woman is free to choose what she will do with her body. Whether her choice leads to an astronaut's mission or to a baby, her choice to begin the journey binds her to the consequences of that choice. She cannot "unchoose."
"When the controversies about abortion are debated, "individual right of choice" is invoked as though it were the one supreme virtue. That could only be true if but one person were involved. The rights of any one individual do not allow the rights of another individual to be abused. In or out of marriage, abortion is not solely an individual matter. Terminating the life of a developing baby involves two individuals with separate bodies, brains, and hearts. A woman's choice for her own body does not include the right to deprive her baby of life—and a lifetime of choices that her child would make.
"As Latter-day Saints, we should stand up for choice—the right choice—not simply for choice as a method." (Russell M. Nelson, "Abortion: An Assault on the Defenseless," Ensign, Oct 2008, 32–37)
Standing up for "the right choice" is precisely why I cannot support a candidate who is pro-abortion, a candidate who thinks babies are a punishment.

To participate in Wordfull Wednesday write a post about any of the topic choices listed in the first paragraph of this post. Come back here and sign your name on the Mr. Linky leaving the URL for your POST not your blog. Make sure to visit the posts of others who are participating and leave a comment. Don't we all love comments? And please, keep it civil! I know that some of these topics can be very controversial but we can disagree civilly!