Sorry this is up so late in the day. Special Dark turns two today so we've been celebrating like crazy and then we've been cleaning and making rolls for our church luncheon tomorrow.
My Guelita is a fabulous cook. She is also notorious for her giving nature. Anyone who stops to visit goes home laden with food. I have fond memories of visiting as a child "helping" Guelito roll the tortilla dough into balls while Guelita rolled them flat and cooked them on a huge griddle. I think the griddle was brought home when they were done with their restaurant business but I'm not certain about that.
Anyway, having lived so far away from Guelita I've had to learn how to make my own tortillas, beans, enchiladas, and tamales. My girls enjoy making them as much as I do. Some traditions are a good thing to pass on! Here's the recipe for enchiladas. It has never failed me yet. If any of my siblings or cousins have a different recipe or other suggestions on how to make them better please pass it along.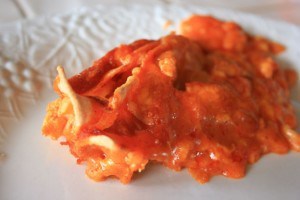 Chicken Enchiladas
4 cups grated cheddar cheese
1 large onion, chopped
3 cups cooked chicken, shredded
36 corn tortillas
Mix together the cheese and onion. **Fill tortillas with chicken and cheese and roll up. Place in two 9×13 pans. Pour enchilada sauce over them. Sprinkle with more cheese. Cook at 350 for 30-40 minutes.
**Guelita softens the tortillas by gently frying them for a few seconds in hot oil. To reduce fat content I just heat mine up in the microwave about five at a time for 30 seconds.
filling the tortillas – ready for the sauce
Red Enchilada Sauce
1/2 cup oil or shortening
1/2 cup flour
1/3 – 1/2 cup chili powder*
1 tsp. garlic powder
1/4 cup powdered chicken consumme (bouillon)**
6 cups water
Heat oil on medium high heat, add flour and stir until flour is dissolved. Add chili and garlic powder and chicken consumme. Stir. Add 4 cups water and stir until mixture thickens. Add 2 more cups of water and bring to a boil. Pour over one 9×13 pan of enchiladas.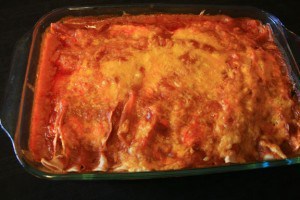 * I buy the chili powder in the Mexican aisle at the grocery store. Most spices and herbs are cheaper there than in the regular spice aisle. I usually buy the California Chili Powder as it is more mild in flavor. If you are feeling adventurous try substituting half the chili powder for the New Mexico chili powder. It is quite a bit more spicy (hot).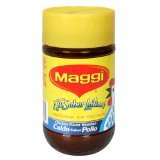 ** Chicken consumme (bouillon) is also found in the Mexican aisle and sometimes in the aisle that has the canned chicken broth or bouillon cubes. One brand looks like this. It will usually say powdered Chicken Bouillon on the packaging.
The sauce recipe only makes enough for one pan of enchiladas. Freeze the other pan without the sauce to use another day.