One of the surest signs that the holidays are really here is the presence of eggnog in the dairy aisle at the grocery store. We literally drink gallons and gallons before its gone for another year. This past week we decided to add it to the egg mixture for our french toast. It was heavenly!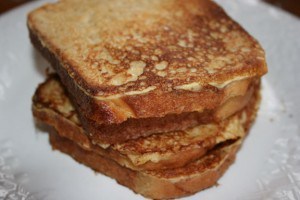 Eggnog French Toast
4 eggs
1/2 cup milk
1/2 cup eggnog
1 tsp. vanilla
10 – 12 slices bread (we used wheat in the picture)
In a shallow pan mix the eggs, milk, eggnog, and vanilla. Beat well. Preheat a skillet or griddle to 350 degrees F. Lightly grease with butter. Dip each slice in the egg mixture making sure to coat both sides. Place on griddle and cook, turning once, until each side is golden brown. Serve hot with butter, syrup, or powdered sugar.