Growing up my husband's family called these puffed oven pancakes "Germans." They're also known as hootenanny. We usually eat them with butter and syrup but yesterday we had apple-raisin sauce minus the raisins. The kids don't like raisins.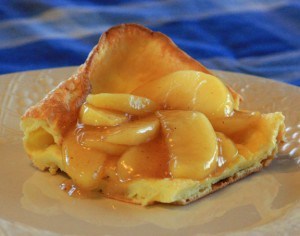 Hootenanny
4 tablespoons butter
6eggs
1 cup milk
1 cup flour
1/2 tsp. salt
Place butter in a 9×13 cake pan. Place in a 400 degree oven for 3-5 minutes until the butter melts. While the butter is melting beat eggs with a whisk in a large bowl. Add milk and beat well. Add flour and salt. Beat until smooth. Immediately pour egg mixture into the hot cake pan. Bake in the oven for 20 minutes or until puffed and lightly browned. Serve with powdered sugar, syrup, or Apple-Raisin Sauce.
Apple-Raisin Sauce
3 apples, peeled, cored and thinly sliced
1 1/4 cups apple juice or water
1/2 cup raisins
3 tablespoons sugar
1/2 tsp. ground cinnamon
1/8 tsp ground nutmeg
Put all ingredients in a pan, bring to a boil, cover and simmer for 7 minutes or until apples are just tender. Stir together 2 tablespoons cornstarch and 2 tablespoons cold water. Add to the apple mixture. Cook and stir until thickened and bubbly. Cook and stir for two minutes more. Stir in 2 teaspoons butter. Makes about 3 cups.