Sorry this is being posted so late today. I had a busy day!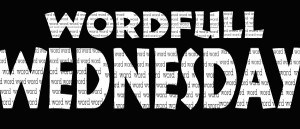 The other day I picked up two HUGE packages from the post office. I could barely see over them, let alone open any doors on my way out. My mind was made up to push the handicap button that would open the doors so I could make a graceful exit. To my relief an elderly gentleman saw my situation and rushed ( well, shuffled quickly) to open the door for me. A teenage boy walking in the other double door held it open for me too. I smiled as graciously as I could and thanked them for their kindness. As I thought about the small gesture of service these two men did for me I realized that I tend to dwell too much sometimes on all that is wrong in the world and forget to focus on all that is right and good.
"How wonderful it is
that nobody need wait a single moment
before starting to improve the world." ~Anne Frank ~
What small, random acts of kindness have come your way? What do you try to do to spread some cheer or give to others around you? Write your answer in a post for next week's Wordfull Wednesday. There will be a Mr. Linky up for you to link to. You have a whole week so either start remembering or start observing those little ways of giving that typically go unnoticed. And share an idea or two we can do to cause someone's face to light up in a smile.