This week has been crazy fun with lots of family, wedding festivities, and traveling. I am so glad it is over though and we can get back to our regular schedule.
Mr. Ferrero Rocher's youngest brother got married on Wednesday in the Reno Nevada Temple.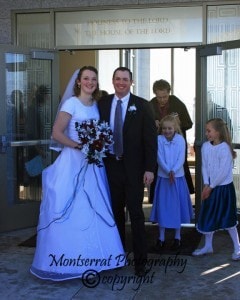 That night we had a reception in his hometown. Before the reception there was a family dinner with both the bride's and groom's families. We took lots of family pictures including this one of Mr. FR's parents and all 34 of their grandchildren. This is the first time in I don't know how many years that his whole family has been together.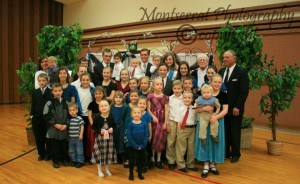 The wedding cake was made by my oh-so-talented sisters-in-law. The wedding colors were teal, black, and silver. Do you know how hard a color teal is to match? The flavors were the bride's and groom's favorite – chocolate and funfetti! My dear brother-in-law has a penchant for funfetti cake with white frosting and sprinkles on top. Some people never grow up. ☺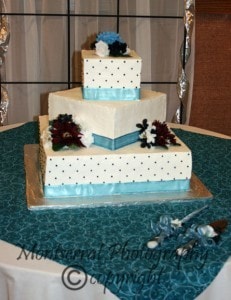 The next day, Thursday, was Brownie's 10th birthday. She opened her present (an iPod) in the morning before I had to take Fudge and Cookie back to Reno for dental check-ups. It turned out to be a very crazy day with shopping, picking up an older gentleman from our church who was being dicharged from a hospital in Reno, waiting almost two hours for the hospital to finally discharge him, and going back to pick up the rest of the family in Fallon before heading back home. Thanks goodness for great relatives who threw a surprise party for Brownie so she didn't feel so neglected by her own mother on her birthday.
Friday everyone came here for the reception in the bride's hometown. Mormon weddings are notorious for all the receptions here, there, and everywhere. We set up everything in the morning and the afternoon was spent with cousins coming and going. They couldn't get enough of each other. It reminded me of "Seven Brides for Seven Brothers" when Millie tells Adam she has such dreams of all of them (the brothers) living around with dozens of babies and children and visiting back and forth at Christmas and birthdays.
Now that we've had a day of rest we are ready to focus on Christmas.