We love breakfast food around here. Biscuits are a particular favorite. We love having them with butter and jam, or honey butter, or cheese sauce and strawberry jam, or sausage gravy, or even dipped in butter and cinnamon sugar before cooking. As you can see biscuits are extremely versatile. Here's our favorite, tried and true recipe.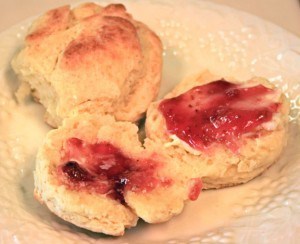 Baking Powder Biscuits
2 c. flour
4 tsp. baking powder
1/2 tsp. salt
1 TBSP sugar
1/2 c. shortening (we do half butter, half shortening)
2/3 c. milk
1 egg
Preheat oven to 425. Mix flour, baking powder, salt and sugar together thoroughly. Cut shortening in with pastry blender. Make sure there are no pieces of butter bigger than a pea. Beat egg and add it and milk to the mixture. Carefully mix together to wet all the dry ingredients. DO NOT OVER MIX! Turn out on floured surface. Knead a couple of times if necessary. Pat out to 1 inch thick. Cut out with biscuit cutter. Place biscuits in the middle of a lightly greased pan right next to each other. Bake for 12-15 minutes or until light golden brown.
*** Tips***
The less you handle the dough the better. Makes for flakier more tender biscuits.
We've also used butter flavored shortening with much success.
Before baking dip each biscuit in melted butter then cinnamon sugar for a nice breakfast treat.
If you increase the sugar in the recipe to 3 TBSP. you can use the biscuits for individual strawberry shortcakes.