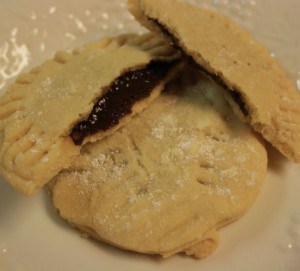 The ganache filling for these cookies are heavenly, especially when eaten hot, straight from the oven.
Chocolate Dreams
Cookies:
3/4 cup salted butter, softened
1/2 cup powdered sugar
1/4 cup light brown sugar, firmly packed
2 large egg yols
1 tsp. vanilla
1 1/2 cups flour
Chocolate Filling:
1/2 cup heavy cream
1 cup (6 oz.) semisweet chocolate chips
In a medium bowl cream butter at medium speed. Add powdered sugar and brown sugar and beat until smooth. Add egg yolks and vanilla and mix until light and fluffy. Scrape down sides of bowl. Add flour and blend until thoroughly combined. Gather dough into a ball and flatten into a disk. Wrap in plastic wrap and refrigerate for one hour.
To prepare the filling: Scald the cream in a small saucepan over medium heat. Add the chocolate chips and stir until melted. Remove from heat.
Preheat oven to 325 degrees (F). On a lightly floured surface roll out dought to 1/4 inch thickness. Cut circles with a 2-inch diameter cookie cutter and place on ungreased cookie sheets, 1 inch apart. Continue using dough scraps, rerolling and cutting until all the dough is used up. Drop 1 teaspoon of chocolate filling in center of a circle and top with another circle. Completely seal the edges using the tines of a fork. Bake 15-16 minutes, or until cookies are golden brown. Transfer to a wire rack to cool. Sprinkle with powdered sugar.