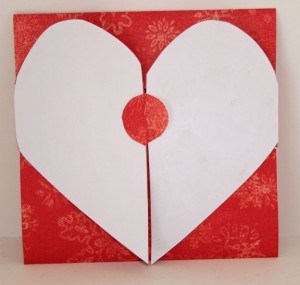 I first saw an envelope similar to this years ago. I love it! It's not hard but does require a little bit of tracing and cutting. First you'll need the templates I've made. I have three sizes – a 3inch square, a 5 inch square (for 12×12 inch sheets of paper), and one that is 3.75 x 5.75 inches. The 5 inch square is in three pieces that you'll have to put together.
Envelope with Heart Closure Templates PDF
Step #1: Cut out the template you want and trace it on the back of a piece of cardstock or scrapbook paper making sure to transfer the fold lines. Cut it out. Make sure to cut the black line on the half circles on each side.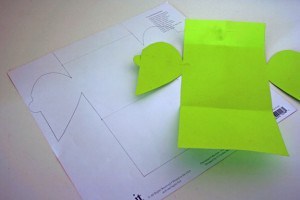 Step #2: Fold up the bottom first then fold down the top.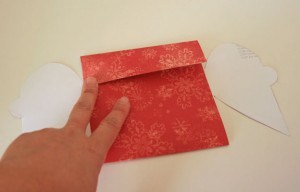 Step #3: Fold in the sides sliding the circles together where the slits are. You can have the circle in the front.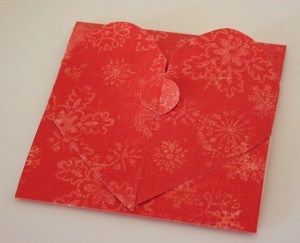 Or you can have them behind the heart. Cute right?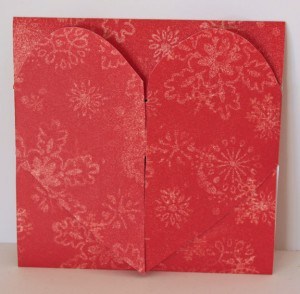 Step #4: To make the heart a different color trace just the heart halves onto a coordinating piece of paper. Cut out and glue over the heart halves on your piece. (see photo below)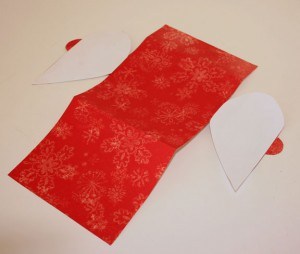 When you fold it up it will look like this.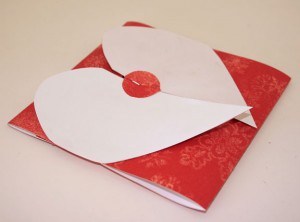 These are also easy to do with fabric. Gather the following supplies: two coordinating fabric pieces, an envelope template, and Heat 'n' Bond.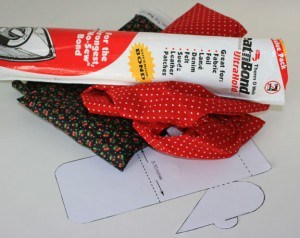 Step #1: Trace the template on the paper side of the heat and bond. Mark the fold lines by creating a little triangle on either side much like the marks on sewing patterns. These will be cut off later. Iron the glue side to the back of one of the fabric pieces. I'm using the heart fabric here as the inside of my envelope. I am also making two heart halves for the heart closure.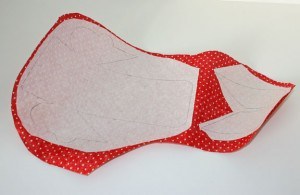 Step #2: Cut out the envelope template. Peel off the paper backing and iron the glue side to the back of your other piece of fabric. Cut out.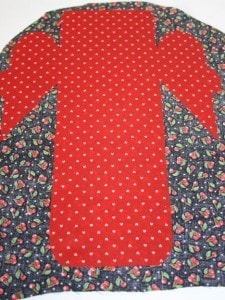 Step #3: Using your small triangles as guides, fold the bottom up and the top down creasing well with your fingers.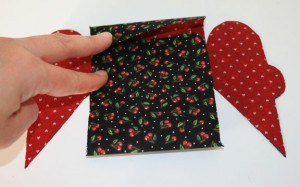 Step #4: Open it back up and flip over. Iron on the heart halves if your are making the heart a different color. Trim the marking triangles off.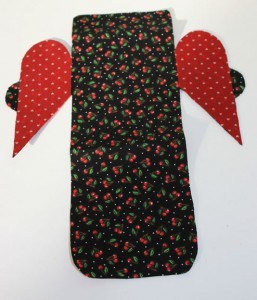 Step #5: Fold in the heart halves creasing well and slide the slits in the circles together to close. Done!