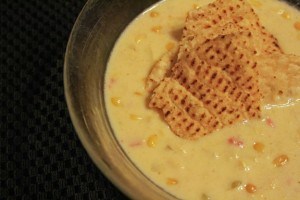 This is the perfect soup to warm you up on a cold winter evening. Wonderful flavors combine for a delicious bowl of comfort food. Make sure to pass the hot pepper sauce around for personal adjustment of the spiciness.
Mexican Corn Chowder
* 2 cups cooked chicken
* 1/2 c cooked onions
* 1-2 cloves garlic – minced
* 1 can chicken broth (2 cups)
* 1/2 – 1 tsp cumin, ground
* 2 c half & half
* 3 c cheese – monterey jack, shredded
* 2 cans creamed style corn
* 1 can green chilies, chopped & undrained
* a few dashes of hot pepper sauce
* 4 oz. jar pimiento, diced
* fresh cilantro or parsley, optional
* tortilla chips, optional
Combine chicken, onions, garlic, chicken broth, and cumin; bring to boil. Reduce heat; cover and simmer for 5 minutes. Add half & half, cheese, corn, chilies, and hot pepper sauce. Cook and stir over low heat until the cheese is melted. Stir in pimiento. Serve immediately. Garnish with cilantro, parsley, and tortilla chips, if desired.