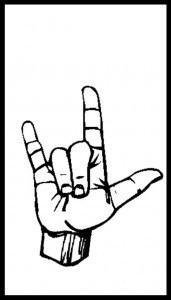 Sunday morning at church Semisweet graduated from Primary into Young Women (primary is for children 3-11, Young Women is for girls 12-18). The bishop (pastor) called her and another young lady up to present them their certificates of graduation. First the other young woman received hers with a congratulatory handshake. Then Semisweet got a big hug and kiss on top of her head from her dad, the bishop. Semisweet had a huge smile on her face. Even though my girls are hitting their teenage years they still aren't ashamed to give or receive hugs and kisses from their parents. And I'm sure glad Mr. Ferrero Rocher isn't ashamed to show love in public either. I think that's a good thing considering all the girls who love to shower him with hugs and kisses and "I Love You"s when we leave church and he has to stay for meetings.
"The eternal truth that our Heavenly Father loves all his children is an immensely powerful idea. It is especially powerful when children can visualize it through the love and sacrifice of their earthly parents. Love is the most powerful force in the world."

Dallin H. Oaks, "Powerful Ideas," Ensign, Nov. 1995, 25
Everyone wants to be loved, to know that someone cares about them. How do they feel that love? In the everyday acts of service that we provide – a smile, a meal, attention, kisses, hugs, compliments, gifts, etc. It is through our acts of love that we draw closer to one another and to God.
"Sometimes the greatest love is not found in the dramatic scenes that poets and writers immortalize. Often, the greatest manifestations of love are the simple acts of kindness and caring we extend to those we meet along the path of life.

"True love lasts forever. It is eternally patient and forgiving. It believes, hopes, and endures all things. That is the love our Heavenly Father bears for us."

Joseph B Wirthlin, "The Great Commandment," Ensign, Nov. 2007, 29
I enjoy serving my family and friends. It is the way I show my love for them. When I am in the mindset that everything I do for my family shows my love for them than it is enjoyable to do laundry, scrub floors, cook meals, clean up spills, etc.
"It pleasures me to serve thee, son." ~ Eliza Birdwell, "Friendly
Persuasion"
Showing affection for my family extends beyond the mundane tasks of everyday life. Recently I made the change in my schedule to spend a half hour twice a week with each child by themselves. It has been a wonderful bonding experience for me and the children. They know they have my undivided attention for that half hour where we do whatever they want. I also like to leave little love notes in unexpected places for them to find, especially on days when they seem to be feeling blue. I know they know I love them.
Showing affection doesn't have to a big extravegant demonstration, although those can be fun. It is the little things, the unexpected things, that make the biggest difference. I love this little poem I found in an old book,
She looked at him.
Her heart was all a-flutter.
He had just written
"I love you" in the butter.

To participate in Wordfull Wednesday write a post about today's topic "Affection for Others," come back here and sign the Mr. Linky making sure to leave the url for your post (not your blog). Go and read everyone's else post and leave comments. Everyone loves comments!