During my one-on-one time with Brownie last Monday we decided to make some woven hearts in preparation for Valentine's Day.
Last year we did paper hearts
this year we're going with felt.
These are easy to make once you get the weaving down.
Step#1: Cut out two identical pieces for each half a heart. The bottom straight edge must be on a fold! Each half must be identical to the other. These heart halves were 3 inches across with the line measurements at 3/4 inch, 1 1/2 inches, and 2 1/4 inches. Because my heart halves are three inches wide I made the lines 3 inches long.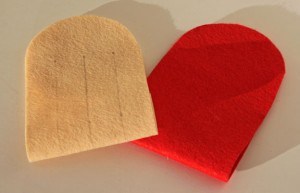 Step #2: Cut on the lines for each half. I actually cheated a little and just marked the cream felt, placed it on top of the raspberry and cut through both of them at once.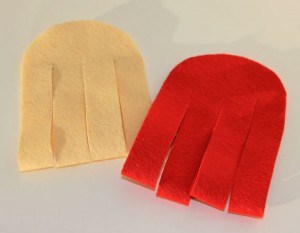 Step #3: Begin weaving the strips in and out. This is easiest if you place the pieces next to each other as if you were making a heart already. Stick with one color to weave. I am weaving the raspberry strips here. You keep the strip together when weaving in, open it when weaving out so that it surrounds the cream strip. In the photo below you can see the cream strip is surrounding the raspberry strip which is being woven in.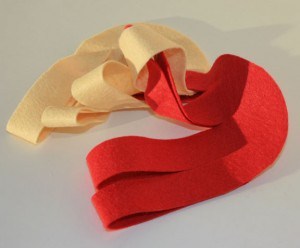 If you are unable to figure out the weaving, Family Fun has a video tutorial here.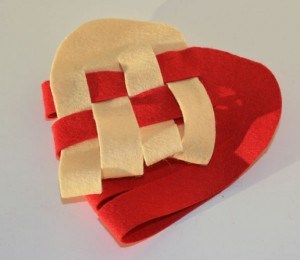 Step #4: If done correctly the heart becomes a small bag or pocket to stick Valentine goodies in. You can add a handle if you'd like to hang these.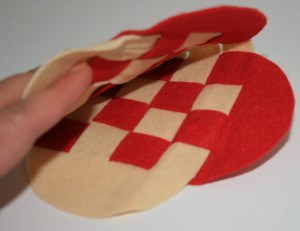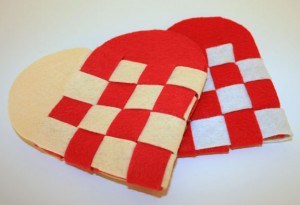 If you'd like more of a challenge with various designs in the weave check out this site. Some are better for paper than felt. Here's my sorry attempt at three hearts within the design. The felt stretched so they are skiwampus.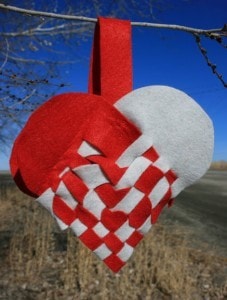 This design was found here.
On tap for tomorrow: an envelope with a heart closure.