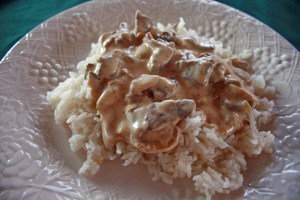 A favorite of Mr. Ferrero Rocher's. I made the mistake of substituting ground beef one time. A BIG NO NO!!! We prefer this served over rice but it is also good over noodles. We double the recipe because it only serves four.
Beef Stroganoff
1 lb. beef tenderloin steak or sirloin steak
2 TBSP. all-purpose flour
8 oz. sour cream
2 tsp. instant beef bouillon granules
1/2 cup water
1/2 tsp ground pepper
2 TBSP butter or margarine
1 1/2 cups sliced fresh mushrooms
1/2 finely chopped onion
1 clove garlic, minced
2 cups hot cooked rice or noodles
Thinly slice the beef into bite size strips. Combine flour, sourcream, beef bouillon granules, water and pepper. Set aside. In a large skillet cook meat in butter until almost done. Add onions and mushrooms. Cook until onions are tender. Add garlic and cook one minute more. Add sour cream mixture. Cook and stir over medium heat until bubbly. Cook and stir one minute more. Serve over rice. Serves 4.