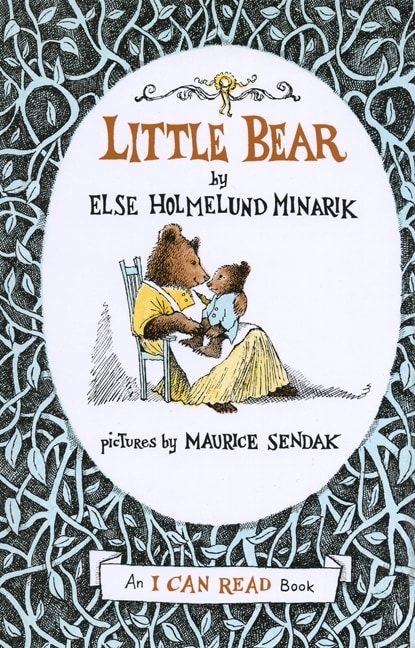 "It is cold.
"See the snow.
"See the snow come down."
Oh how well I remember these words! My parents were using Else Holmelund Minarik's beloved book "Little Bear" to teach me how to read. It was so fun to snuggle on the couch with one of them, their arms wrapped around me holding the book between us, their pointer finger slowly tracing across the words as I sounded them out. The thrill of seeing the letters come to life! And having my parents smother me with kisses and praises of a job well done. It is one of the earliest memories I have. I was three.
Another year later I'm jealous because my sister gets a book, "Little Princess," at her third birthday party. I secretly try to steal it away, afterall she can't read it . . . .
yet
. She too would be tutored by my parents to love reading just as they would go on to teach every one of my four younger siblings. (Obviously I can't remember this as well because now as I type this I'm thinking it might have been my sister's fourth birthday but I'm pretty sure it was her third.
Ness
?)
On my fifth birthday I am overjoyed. I received exactly what I asked for – a dictionary! Honestly, doesn't every normal five year old ask for one? Towards evening time my father finds me sitting at the bottom of the stairs crying as I hug the dictionary to my chest.
"What's the matter, Montse?"
"How am I supposed to look up words when I don't know how to spell them?"
Looking back I think he was trying hard to suppress a laugh. He gently took the dictionary from my hands.
"Well you just sound out the words. Here I'll show you." The first word he had me look up was elephant. There was a cute little cartoon drawing under the definition.
I am so thankful to my parents who love to read and passed that love of reading onto me. Now I get to teach my own children. It's a wonderful moment when the light turns on and something clicks in their heads. I love seeing the joy on their faces when they realize they can READ!!
One of our favorite books to read together is "Wild About Books" by Judy Sierra. Its about a bookmobile librarian, Molly McGrew, who mistakenly takes the bookmobile to the zoo. It is written in a flowing, playful rhyme that appeals to adults and children. My girls love the references to other popular books and characters. "She even found waterproof books for the otter, Who never went swimming without Harry Potter." The animals not only find it's fun to read books but it's also fun to write them! The illustrations are well done with bright happy colors which keeps even Special Dark entertained. We've read this book so many times everyone has it memorized.
Currently, we are working on a project trying to write a poem in a similar style for our own bookmobile librarian, Ginny, who has had to stop her bookmibile visits while she undergoes treatment and surgeries for breast cancer. The girls will illustrate the pages as we compile it into a book. Ginny's bimonthly stops right at our front door for the last three years have helped my own children go "wild, simply wild, about wonderful books."

Join us for Wordfull Wednesday! Write a post on this week's topic "Learning to Read and Favorite Children's Book," come back and sign the Mr. Linky making sure to leave the url to your post not your main blog.