WARNING: For safety's sake, please read what the USDA has to say on the subject of canning butter at home. Much of this is because they haven't run tests on these processes themselves and therefore cannot vouch for their safety. Please read HERE and decide for yourself before proceeding to can butter at home. (Thanks Kelli!)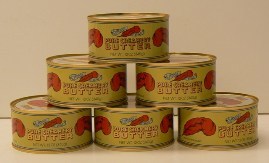 Last November we decided to buy a case of canned butter to add to our food storage. The butter comes from New Zealand and was about $5 per 12 oz. can. In January we had a Relief Society (LDS women's organization) Enrichment meeting about canning our own butter. I couldn't believe how simple it was! And so much cheaper than buying the already canned stuff. Last week our Walmart had butter on sale for $1.50 a pound. I couldn't pass up the opportunity to stock up especially with all the butter we eat around here – a good 3-4 lbs. a week at least.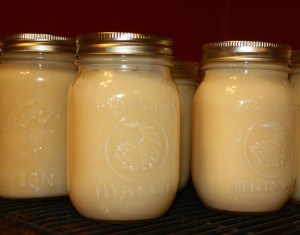 Yesterday afternoon we canned butter. Isn't it pretty in the jar? Here are the simple instructions to can your own.
Supplies:
Large pot
Wooden Spoon or Spatula
Pint canning jars
Seals and Rings for jars
Butter, salted kind (any brand will work)
Roasting Pan
Smaller pot for boiling seals
Funnel
Ladle
Cooling Rack
1. Wash all jars very well. Put them in a roasting pan and heat in a 250 degree oven for 20 minutes, without rings or seals. I just put mine wet in the roasting pan and they dried in the oven.
2. In the smaller pan bring some water to a boil and simmer the seals a couple of minutes. Keep in the hot water until needed.
3. As the jars heat in the oven, slowly melt the butter in the large pot, stirring with a wooden spoon or spatula the whole time to keep the butter from scorching. Scorched butter is NOT pretty! Slowly bring to a boil and boil for 5 minutes stirring well the whole time. Make sure you have a very big pot as the butter will rise and become foamy as it boils. We don't want any disasters of butter boiling over and creating fires! One pound of butter fills one pint jar and a little more. Be prepared by having more pint jars ready than pounds of butter. For instance, have 10 pint jars ready if melting 9 pounds of butter.
4. With the ladle stir and scoop the butter from the bottom of the pan into the jars using a canning jar funnel to guide the butter. To allow room for the shaking process leave 3/4″ of head space in the jar.
5. Wipe off the rims of the jars, place a hot seal on top and screw on a canning ring. Do this carefully as the jars are HOT! Place on a cooling rack. The lids will seal as they cool. When the lids are all sealed and the jars are still warm but cool enough to handle give each jar a good shake. This will keep the butter from separating as it cools and hardens.
6. Continue to give the jars a shake every 10-15 minutes. When no longer hot put all the jars in the refrigerator for the final hardening process. Keep jars in refrigerator for an hour remembering to shake every 10 -15 minutes.
7. After the butter is hardened take out of the refrigerator and store in a cool place. Canned butter will store for about three years. It will not melt when opened so does not need to be stored in the refrigerator when you use it which is a nice thing if you had to live off your food storage for a while without any power.
Additional notes:
You can use smaller canning jars if you do not think your family would use a whole pint ( almost a pound of butter) fast enough. Do not go bigger than a pint jar.
If you have a jar that doesn't seal just store it in the fridge. It will harden and is still usable but will not be good for long term storage so use it within the next two weeks.
By canning my own butter I estimate each pint of canned butter cost me about $2. I already had the jars and lids and just needed to get the seals. Of the course the butter was on sale but even if it wasn't with the regular price of butter it would have cost me about $3, a much better deal than the 12 oz. at $5 we bought back in November.
Canned butter is a little bit saltier than regular butter but it is the salt that helps to preserve it. I don't know if the unsalted butter would store long or not.