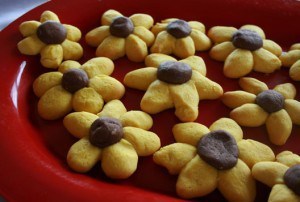 We made these cookies a couple of weeks ago at our Kentucky Derby party. It was easy and fun for the girls to shape the cookies themselves. These would make a nice treat for someone who is feeling blue!
Brown-Eyed Susans
1 batch sugar cookie dough. We use this recipe.
3 TBSP. cocoa powder (dutch process)
1/4 cup flour
1 1/2 tsp almond extract
Yellow Food coloring
Make your favorite sugar cookie dough recipe. Take out 1/3 of the dough from the bowl. To the remaining 2/3 of dough add yellow food coloring, almond extract, and 1/4 cup flour. Mix until well blended. Take dough out of bowl, flatten into a disk, wrap with plastic wrap and refrigerate one hour. To remaining 1/3 of dough add the cocoa powder and mix well. Wrap this dough in plastic wrap and refrigerate one hour also.
Preheat oven to 350 degrees. Lightly grease cookie sheets. For flower centers, divide cocoa dough into 30 pieces; shape into balls. For flower petals divide yellow dough into 30 equal pieces. Working with one yellow piece at a time, divide that piece into six equal pieces. Shape each into a petal by rolling into an oval and lightly pinching one end. Place petals in a circle on the cookie sheet. Place a cocoa ball in the center of the petals lightly pressing the pieces together. Repeat with remaining dough until all 30 flowers are formed. Bake 7 – 9 minutes or until firm but not browned. Cool completely on cookie sheets. Makes 30 cookies.