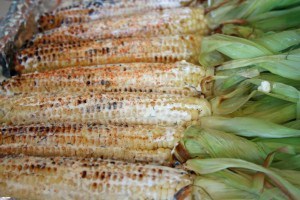 My dad first made this for us several years ago while he was visiting, I think when Cookie was born. It is a recipe we look forward to making every summer. It is SO GOOD!!! Make sure to have plenty of ripe, sweet corn on hand to grill as everyone will come looking for seconds.
Mexican Grilled Corn
12 ears corn
1/2 cup mayonnaise
1 cup sour cream
1 cup shredded Parmesan cheese
1 lime, cut into wedges
Red Chili powder to taste
Mix together sour cream and mayonnaise. Set aside. Peel husks down to bottom of corn but do not pull all the way off. This will give you a handle to hold the corn for turning on the grill. Desilk the corn. Lightly spray each corn with cooking spray. Grill on hot (300 – 350) grill until lightly charred turning to cook each side. When corn is done slather each side with sour cream mixture. Sprinkle Parmesan cheese and chili powder on all sides. Squeeze lime juice all over. Serve.
Other ideas to serve at your Memorial Day BBQ