How's your summer break coming along? Ours has been interesting so far.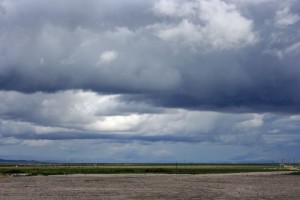 See this? Those are rain clouds. Usually a very rare sight here in Nevada. Usually.
We've had them everyday for the past two weeks. I love the rain. In Georgia I used to curl up with a good book, a big bag of peanut M&M's, and read all day long while listening to the rain splatter the window pane. Lately though this rain is not welcome.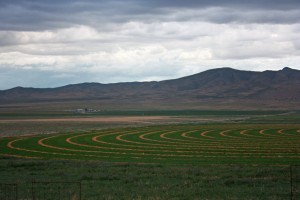 Look closely at this picture. See those brown stripes out in the field? That's alfalfa hay. It's been there for two weeks because of the rain. We have over 1,000 acres of ruined hay. We can't cut the rest because it's too wet. We can't get this stuff off the field because it's too wet. The hay that has been cut is growing like crazy because of the cooler temperatures and lots of moisture. There is no end in sight. The trusty Farmer's Almanac predicts this same weather until the end of July. Ugh. I reminded Mr. Ferrero Rocher one day while he complained about the hay that we prayed for rain. We just didn't specify when or how much. ☺ He didn't think that was too funny.
There have been several perks due to the rain.
1. The humidity has caused my hair to be curly like it was when we got married. I had beautiful, naturally curly hair until my first pregnancy. Then it went completely straight. My kids say I look totally different, not like their mom, but Mr. FR and I are loving it.
2. Our garden has taken off! This is perfect weather for plants to grow. Not to hot, plenty of moisture. Of course, keeping up with the weeds takes quite a bit of time but that is also very therapeutic. We've eaten fresh garden peas with several of our meals. They taste so good!
3. As with the vegetables the flowers are blooming and beautiful. We have yellow roses, red, coral, pink, and white poppies, pansies, daisies, vinca, and sweet william. The sunflowers are growing taller every day.
4. We no longer live in beige country. A variety of green hues surround us in the desert and on the mountains. Did you know that if you aren't color blind you see more shades of green than any other color? Green is my favorite color so I'm loving the views right now.
Even with our hay ruined and the potential that half our year's income will be gone because of the rain we have a peaceful assurance that all will be well. I can't explain the feeling. I just know that God, in His mercy, is letting us know that we are in His hands. There is no other place I'd rather be.