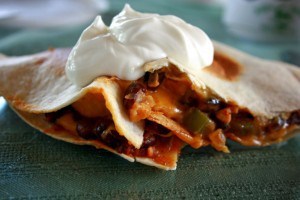 Quesadillas are a quick go to meal at our house. It's easy to vary the filling depending on what you have on hand. We broil ours in the oven for a crunchy tortilla. Pictured here is a chicken and black bean filling.
Quesadillas (basic)
6 flour tortillas
2 cups shredded cheese, monterey jack, cheddar, or pepper jack
Filling
Lightly spray a baking sheet with cooking spray. Lay three flour tortillas on the tray. Top with shredded cheese and filling. Place the other three tortillas on top. Lightly spray tops with cooking spray. Broil in the oven about 5 inches away from top broiler for 3-5 minutes or until golden brown. Take out of oven and carefully flip quesadillas over. Broil other side for about 3 minutes or until golden brown. Serve with sour cream, salsa, and guacamole.
Chicken and Black Bean Filling
1 chicken breast, chopped into little pieces
1/2 green pepper, chopped
1/2 onion, chopped
1 can (15 oz) black beans, drained well
1/2 tsp. chili powder
1/2 – 1 tsp cumin
1/2 cup salsa
In a hot skillet saute chicken, green pepper, and onion until chicken is cooked through and green pepper and onion are tender. Add remaining ingredients cooking and stirring until heated through about 2 – 3 minutes. Use as filling in quesadillas.