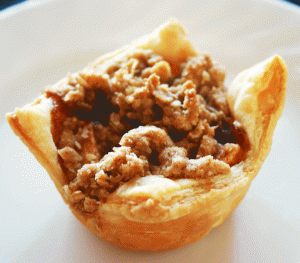 Bon Bon wanted to make some kind of dessert involving apples. After looking through various cookbooks and searching recipes online she came up with this dessert on her own. Each individual cup has a light flaky crust thanks to the puff pastry. The presentation is lovely!
Apple Crisp Cups
Crumb Topping:
1/2 rolled oats
1/2 cup brown sugar
1/4 cup flour
1/4 tsp. cinnamon
1/8 tsp. nutmeg
1/4 cup butter
1/4 cup chopped nuts
Combine oats, sugar, flour, and spices. Cut in butter till mixture resembles coarse crumbs. Stir in nuts. Set aside.
Filling:
1 pkg. puff pastry, thawed
4 apples, peeled, cored and diced
1/2 cup sugar
1 1/2 tsp. cinnamon
Preheat oven to 375. Cut the thawed puff pastry into 4 inch square pieces. Carefully press each piece into a compartment of a muffin tin creating a cup. In a bowl stir together the apples pieces, sugar, and cinnamon. Scoop about 1/3 cup of the apple mixture into each pastry cup. Sprinkle the tops with crumb topping. Bake about 25 – 30 minutes or until apples are just tender and crust is golden brown.

© 2007-2009 Chocolate on my Cranium, LLC all rights reserved