I want to be kind to everyone for that is right you see.
So I say to myself remember this,
Kindness begins with me!
Did you know that the fourth week in August is "Be Kind to Humankind" week? While we strive to teach our children to be kind everyday to everyone they meet, I think it is also worthy to acknowledge kindness, celebrate kindness, for a whole week. As a society, I think people forget to do the normal decent things we should be doing everyday.
If you visit the official Be Kind to Humankind website you will find a suggested theme of kindness for each day of the week. We are doing our own acts of kindness thought up by the children.
Everyday this week we will begin our daily devotional by singing Primary songs or Hymns that have to do with kindness to remind us of our goal for the day – to do something for someone else. The quote above is one simple little song. Here's another we love to sing:
A simple gift is kindness
Such happiness it brings.
When I am kind to others
My heart sings!
It doesn't take much to show a little kindness. Here are some suggestions:
*Send a postcard to a friend
*Call someone you haven't talked to in a while
*Record yourself reading a book or several books and send the cassette and books to a child in your life
*Bake some cookies and share with someone
*Hold the door open for the person behind you at the store
*SMILE!
*When going for a walk pick up trash in your neighborhood
*Dedicate a song on the radio to all those who have been kind to someone today
*Write a thank you note
*Visit someone who needs cheering up
*Pay for the person behind you in line at the drive thru
*Offer a couple of hours of babysitting to busy parents so they can get away for while together
Of course, I can't end this post without showing a few simple acts of kindness that have been shown to us. A couple of weeks ago we received this little card in the mail.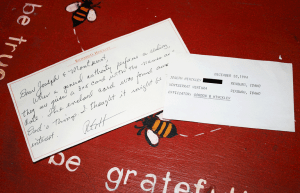 If you can't read the writing it says, "Dear Joseph & Montserrat, When a general authority performs a sealing they are given a 3×5 card with the names and date. The enclosed card was found among Dad's things. I thought it might be of interest. RGH" The enclosed card is also pictured. It's a simple typewriter typed card with our names (last name blocked out) and the day we were married and by whom. We didn't even know it existed. It touched us to receive this because it is something that would have been easier to throw away. We would not have known about it. Yet, Elder Hinckley took the time to send us the card knowing it would be a small treasure for our family history.
The table that the cards are on is also a gift of kindness from someone I haven't even met. It is an old Sacrament table that has been repainted with a red top and white legs. The top has Pres. Hinckley's "Six Bs: Be Grateful, Be Smart, Be Clean, Be True, Be Humble, Be Prayerful," hand painted around the edge as a border. Mr. Ferrero Rocher uses it as a desk in our bedroom.
What acts of kindness have been shown to you lately? Pass it on and try to do something kind every day this week for others.
Have I done any good in the world today?
Have I helped anyone in need?
Have I cheered up the sad and made someone feel gald?
If not, I have failed indeed.
Has anyone's burden been lighter today
Because I was willing to share?
Have the sick and the weary been helped on their way?
When they needed my help was I there?

There are chances for work all around just now.
Opportunities right in our way.
Do not let them pass by saying, "Sometime I'll try"
But go and do something today.
Tis noble of man to work and to give
Love's labor has merit alone.
Only he who does something helps others to live.
To God each good work will be known.

Then wake up and do something more
Than dream of your mansion above
Doing good is a pleasure, a joy beyond measure
A blessing of duty and love.

© 2007-2009 Chocolate on my Cranium, LLC all rights reserved