The two oldest girls and I are off for a day of shopping and temple going with three of my Sisters-in-law. Some of the best role models I know for my girls! Our husbands are staying home to man the forts while we are gone. The children laughed when they heard the dads were in charge for the day. =)
Here's a bit of fun found at House Beautiful. A color numerology chart to find out your color personality.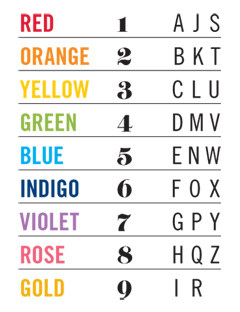 Here's how it works: Take each letter in your name and find its corresponding number in the guide above. Add all the numbers, then reduce the total to a single digit.
EXAMPLE: Mimi Read 4+9+4+9+9+5+1+4 = 45. 4+5 = 9 = Gold.
I ended up my favorite color!
4. Green: The perfect balance between the physical and mental. Grounded, logical, not easily influenced, rarely judgmental. An intensely loyal friend — and has lots of them.
To read the description of your number/color head over to House Beautiful. What did you end up being?
It was also fun to do my maiden name. It very much describes how I was before I mellowed out after marriage. =)
1. Red: The most dominant personality. A visionary and risk-taker: energetic, passionate, tenacious, flamboyant, and courageous.

© 2007-2009 Chocolate on my Cranium, LLC all rights reserved